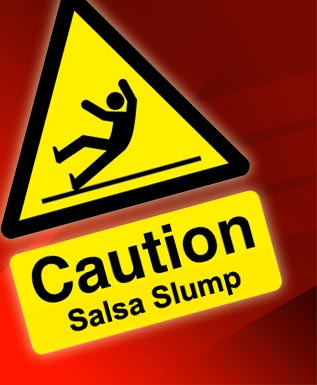 When asked, almost 99.9% of you would say that you love to dance Salsa because it's so much fun…but what do you do when it no longer feels as fun? You, my friend are in a Salsa Slump.


What hurts about a slump the most is that it feels like when you get your heart broken by something you truly love. I've just been getting out from my first real salsa slump and I did a lot of soul searching and reading. I discovered an excellent blog based in Toronto detailing a Salsa Gigolo's life, most importantly, his beliefs on why he was in a slump. [ Read it here ] It's a very interesting blog that combines a Sex and the City vibe with philosophy, personal reflection as well as great humor!


It inspired me to go out and try different methods to get over this slump…
Here are some of the things that I did to get out of the slump:


Get Your Grind On:
Showing my true geeky colors, 'Grinding' is a term used in gaming to engage in repetitive and/or non-entertaining gameplay in order to advance your character. I started forcing myself to go out to salsa clubs and socials and dance. While I felt very disconnected and couldn't produce very many good combos, at least I was getting exercise and at least 'faking it till I make it'. I find that sometimes when you force yourself through it, you re-discover what you love about salsa.


Get Away:
I know that I just recommended to 'grind' your way through it, but perhaps you're suffering from too much salsa… some would cry blasphemy but I say that burnout can happen so quickly with something as addictive as salsa. I was speaking to a renown salsa leader last night at a social and he said that to get over his slump he goes out and does anything but salsa, whether its see a few movies, go bowling or maybe a good road trip!


Get Inspired:
I think this may have been the most effective tip for me as I spent a lot of time trying to get inspired. I think I must have watched 'This Is It' about ten times as my main inspiration for dancing has always been Michael Jackson. His effortless movements, precision and showmanship are all it took for me to get my practicing my shines again. Other sources of inspiration? Check out Youtube for 'Dancing With the Stars',  'So You Think You Can Dance' and other great dance films!


Want to see my favourite inspirational speech of all time?
If you haven't seen 'Any Given Sunday', go rent it, even if you dislike sports films.
The speech Pacino gives is unreal and easily transferred to salsa (talks about steps and inches)
[ watch it here ]


Here's another great speech which I watch when I feel like blaming others for my woes…
[ watch it here ]


Go Early to Plaza Flamingo or Babalúu's on a Saturday Night:
I picked these two clubs because this is where people who are new to salsa go to learn and attempt to dance. Why go? Because you get to see how much fun they are having trying to figure out their basics, right turns and just dancing. Fun is contagious and you may see in these people what you once felt. Not based in Toronto? Every major city has at least one salsa club that touristas and neewbs go. 


Have Fun:
This goes along with the previous tip. Salsa is all about having fun. It's just dancing after all. The moment you start thinking of it as a job then you're going to start losing that loving feeling. To me it's not the ones who are doing the biggest turn patterns, drip or tricks, but the couples who smile and laugh the most. It sounds cheesy, but honestly, it's why we're all here.


Retail Therapy:
The best part of being a dancer is that we can always justify buying a new pair of shoes. Sometimes all it takes is going out and getting some new duds to inspire you back into your usual styling self. Don't want to spend a bundle? Go out to Puma or American Apparel and get some wicked looking wristbands.


Privates:
We all plateau from time to time so maybe it's the right time for you to finally go get a few private lessons? I used to do this when my guitar playing would stagnate and you wouldn't believe how much I would learn doing a quick session with a teacher who's been in your shoes! Not sure where to start? Check out TDS's Private Lesson info.


Happy Salsa Songs:
Here are a few songs that I'm really into right now that keep me smiling during these cold months:
Marc Anthony: Tu Amor Me Hace Bien 
Celia Cruz: La Vida Es Un Carnaval 
Junior Gonzalez: Lady in Red
Take a Chance on Connection:
This may sound weird but when I get in a slump, I shy from connecting with others. This type of isolation is very bad for a Salsero and definitely showed in my combos and even in my expression! The best part of dancing Salsa is to gaze into your partners eyes and feel that amazing connection.  While it can be romantic, to me usually the gaze is more like an endearing 


Let Go / Feel the Force / Wu Wei:
Sometimes we have to let go of all of the things that we learn and just feel the music. When you're truly feeling the music you're timing will be better, you'll style when your body feels it should and you'll be smiling. Many of my best moments have been when I was just letting go and having fun.
Sometimes when you're sad, you're sad. Sometimes a tan helps, sometimes it's Ben & Jerry's but whatever it is, make sure that you've got someone there for you for support. I've found the Salsa Community to be made up of caring people who will be there for you when you need help. 


Winter can be really hard on all of us so make sure that you're doing what it takes to get you back to good. Hugs are awesome and I'm always down for giving them ( depending on how long I've been dancing/sweating, lol ).


I hope these tips help, there are probably many other great tips so feel free to comment about how you've dealt with your own Salsa Slumps. While I may feel like the end of the world, trust me, it will end and you'll fall back into your salsa groove in no time. I can't wait to see you back on the dance floor once you're ready!


Till then,
Stay Shining Salseros!