Nina and Alfred headed out to the Oct 28 Halloween outing at Plaza Flamingo in costume, Nina as La Matadora and Alfred as her El Toro. As it was a Toronto Dance Salsa outing, we knew there would be plenty of people to dance with. We were also excited and nervous, as it would be our debut at teaching a beginner workshop together.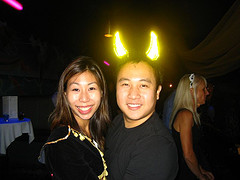 We arrived on the early side at 9pm, but there was already a crowd learning a few moves from the resident salsa instructor. We watched in slight horror to observe the inclusion of a neck drop in the lesson for these beginner salsa dancers. As Alfred expected a few women were dropped, gently albeit, but still ending up on the floor. We hoped for their safety that nobody would be trying it on the dance floor later on. As 9:30pm came around, the place was getting pretty packed and it was time to start the workshops. Sharon and Evan put a crowd through an advanced turn pattern while Nina and Alfred put the beginners through a warm-up followed by a beginner turn pattern along with a variation. It was difficult without a microphone and the best feedback we had was to see that everybody was following along and ending up in the same position. I'm sure the people at the back were having difficulties hearing me, despite projecting my voice at the top of my lungs. We hope everyone had fun and if you have any comments or suggestions please email us or leave a comment. We'd be happy to hear from you.
The dance floor is roughly a rectangular shape with a wooden floored stage. There are bars on opposite corners of the dance floor with wait staff more than happy to bring you your drink. The main dance floor is a bit sticky and would be difficult to spin on without dance shoes. We like dancing on the stage, not for attention of course, but because it is less crowded and has wooden flooring that is easier to spin on. Considering the accomodating size of the venue, it did get quite crowded and it got pretty hot. I think I felt heat coming from the vents instead of cool air, but maybe it was my imagination. There were plenty of people in costume, and it was fun to see some of the more elaborate costumes. I'm amazed for those in more intricate costumes that they didn't melt or suffer from heat stroke. I was in a t-shirt (because you know, bulls wear black t-shirts) and I was sweating bullets. In the future I will remember to continue to dress lightly. One fun aspect of my costume was my horns that appeared to glow in photos. According to Sharon in their photos they found that there were more than a few where magically there would be glowing horns somewhere in the photo. The next, "Where's Waldo?" Maybe not.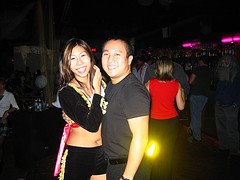 There were plenty of people to dance with and Nina and I had a fun time. There was energy in the crowd and a good mix of dancers of all levels. We would have enjoyed more salsa music, as the sets of merengue and reggaeton were sometimes lengthier than one would expect, and as the night went on there seemed to be less salsa as it moved onto more latin club and hip hop. By the time we left around 1:30am, there seemed to be an endless set of reggaeton and hip-hop. So in summary the outing was a fun event, and we'll have to do another review on a non-outing night in the future.
See you on the dance floor!
---
Plaza Flamingo
423 College Street (SE side of Bathurst)
416-603-8884
Cover: Fridays $8, Saturdays $10
Salsa: Fridays and Saturdays
Coatcheck: Mandatory (Free, Tips accepted)
Our Ratings
Dancefloor: 2
Ambiance: 4
Music: 2
Dancers: 4
Fun Factor: 4
Overall: 16 (out of 25)