One of the best benefits of Salsa dancing is that it's a really great form of cardio. Whether it's seeing men and women sweating the night away or noticing that one dancer who's looking a little more cut; everyone can agree that it's great exercise. What I didn't really realize is how important it was to my fitness life until I started wearing a Nike Fuelband.
A Nike What?
The FuelBand is a apple-looking wristband that acts like a space-aged pedometer that counts calories burned, steps taken and shows you the Nike Fuel Points earned. Using accelerometers and fancy tech, the FuelBand keeps track of your fitness, can sync up to your mobile devices and even has a social network so you can show up your friends.
While it's not a perfect device to track all aspects of your fitness (the FuelBand isn't water-proof enough for swimming), it does one thing extremely well: It gets you to get off your butt and go get fit.
In my case, it's helping me get up and go dance. This is awesome.
I'm not sure how your New Year's Resolutions are doing, but with the Nike FuelBand you actually go in and program how many Fuel Points that you want to burn each day. A score of 2000 equals a normal restful day while 3000+ means a pretty solid active day. The nifty band shows you (via coloured dots) just how far down the rabbit hole that you've gone.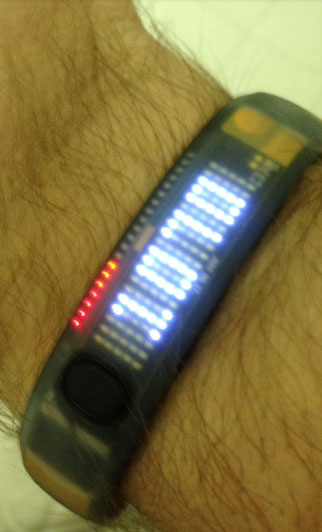 While somedays it can be really hard to reach that goal, I've been seeing in my charts that dancing has dramatically improved my score! It's amping up my points so much that it's getting harder and harder to not go out dancing, I mean, it's really fun and I'm earning so many point!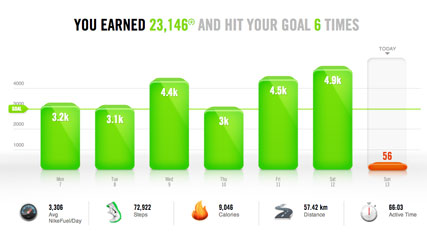 Guess which days I went out dancing?
One thing I've learned though, if you wear the band on your right hand, you may make your partner uncomfortable. I just easily switch mine to the left and so far, it's been really great!
So get out, beat the winter blues and earn some serious Fuel points dancing salsa!
Till then,
Stay Shining Salseros!