Toronto Dance Salsa In The News!
Here are some recent news features profiling Toronto Dance Salsa Inc. We are always interested in partnering with the media so please do not hesitate to contact us with any opportunities.
Steven and Chris :
See our team profiled on CBC's Steven & Chris on: Feb 7th, 2008 at 2:00pm (reruns on other channels – check your local listings!)

Steven and Chris have a new daytime talk show on CBS. The "Designer Rivals" from HGTV are learning to salsa dance with Sharon, Evan, Emely and Sara so tune in to see them shake it on the dance floor on Thursday Feb 7, 2008 at 2pm on CBC. Video to be posted soon!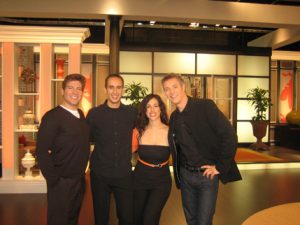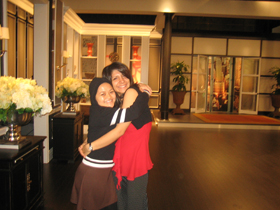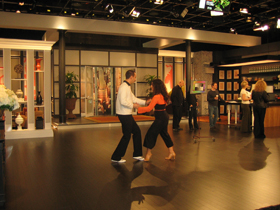 Reader's Digest Featured Article – February 2008

Sharon Galor and Toronto Dance Salsa are featured in this article just in time for Valentine's Day about participating in active pasttimes with your partner. Here is an excerpt from the article…
"Put Your Love in Motion"
By Deena Waisberg
Salsa Dancing
The upbeat meringue music at Toronto Dance Salsa Inc. immediately puts you in the mood to dance. In a studio with about 20 couples, you and your honey practice moving back and forth, side to side, right turns and reverse turns. Then your guy moves you into a sweetheart hold, turning you clockwise, but keeping hold of both hands, so you end up wrapped in his arms. While you may wear the pants at home, the man always leads in salsa.
"If a gentleman wants a woman to spin, he lifts his arms up and gives her a certain amount of pressure in the direction he wants her to go," explains Sharon Galor, president of Toronto Dance Salsa Inc. But ultimately, you and he are moving in synch, reading each other's body language and working up a sweat.
In addition to the exercise benefits: improved coordination, muscle toning and a cardio workout, salsa can spark or rekindle romance. "It's a really romantic, sexy dance. There's a lot of touching…you feel the music together, there's a sexy element to it," Galor says. You're also learning to communicate non-verbally, and you know where else that skill will come in handy!"
Click here to read the full article
The Shopping Channel:
See our Toronto Dance Salsa Team of Instructors and Assistants and our new Salsa for Beginners DVD profiled on The Shopping Channel on: Jan 22nd and Jan 23rd, 2008 at 1:00pm, 5:00pm, 9:00pm, 1:00am and 6:00am!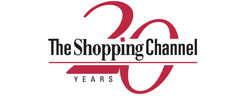 The team at Toronto Dance Salsa is joining forces with The Shopping Channel to feature our Salsa for Beginners Instructional DVD. Join Sharon, Evan, Rob, Sara, Kimberly, Mark, Velina and Emmett as they burn the dance floor on the Shopping Channel with hosts Renee Torrington, Susan Yull and even a surprise vist from Richard Nester. We will add the video segments as soon as we can.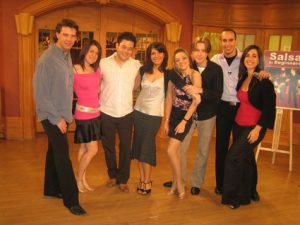 Watch the DVD Intro On The Shopping Channel : Part 1
Watch the DVD Intro On The Shopping Channel : Part 2
Real Life:
See our team profiled on CTS TV on: Jan 24th, Jan 29th, Jan 31st and Feb 21st, 2007 at 5:30pm!

Join "Real Life" host Sharon Caddy and co-host Tanya Prokomenko as they take a private salsa lesson with Sharon Galor and a team of Toronto Dance Salsa assistants. The show was taped on Friday, November 10th and four different segments of lessons on Merengue, Bachata, Salsa and Dance Etiquette will be aired on January 24th, Jan 29th, Jan 31st, and Feb 21st at 5:30pm on CTS TV.
January 24th, 2007 – Salsa
January 29th, 2007 – Merengue
January 31st, 2007 – Bachata
Life with Derek

Michael Seater and Ashley Leggat, the lead characters in the hit Family Channel & Disney Channel show "Life with Derek" join Sharon Galor and Evan Carmichael for a salsa crash course in a Podcast. Here are some photos of the team!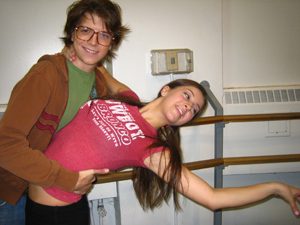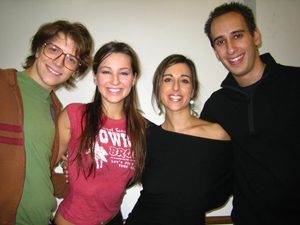 Profiling Toronto Dance Salsa
Journalist and Toronto Dance Salsa student Amie Di Carlo profiled Sharon Galor and Toronto Dance Salsa. Click "play" to check out an excerpt of the video.
Toronto Living – Jan to Feb 2006

Toronto Living showcases the best of Toronto on Rogers Cable. Fitness Correspondent, Dr. Scott Levine interviewed Sharon Galor about the benefits of salsa dancing and participated in a private salsa lesson. The segment also features clips of some of the Tuesday class level 3 students and helpers dancing during the class.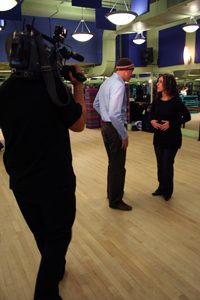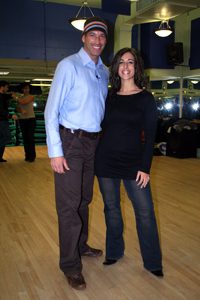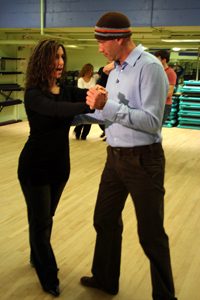 National Post / Financial Post Article – January 2009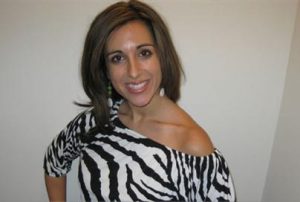 Passion for dance helps entrepreneur build her own business
Burke Campbell, Financial Post Published: Monday, January 05, 2009
Sharon Galor is president of Toronto Dance Salsa, tells the Financial Post what motivated her to become an entrepreneur.
Sharon Galor is president of Toronto Dance Salsa ( torontodancesalsa.ca ), which offers classes in salsa dancing. Ms. Galor tells the Financial Post what motivated her to become an entrepreneur.
Opportunity
"My parents were from Israel. They moved to Australia when I was small, then to Canada. Canadians seemed less outgoing than Aussies, and at first, I found it harder to socialize."
The lure of the dance
"I worked as a director in human resources in a corporate environment. One day, I decided to take a dance class. Immediately, I was hooked. I had so much fun. In time, I evolved into a teacher."
Big decision
"In 2005, I bought a small dance business. Realizing the importance of location, I opened in a mall, accessible by public transport. People started to sign up for classes and we went from a few hundred students to over 5,000."
Popular
"Salsa is a sexy Latin dance, with a lot of memory work and defined male/female roles. The men like the structure and leading the dance, but ultimately, their movement shows off the woman. Both parties develop confidence and have a terrific time."
Purpose
"I love teaching, and growing a business. It's great watching people connect through dance."
Metro News – August 2009

Local schools make it easy to put on your dancing shoes
LEYLA EMORY
FOR METRO CANADA
August 05, 2009 2:13 a.m.
Click here to view article.
Thanks to the onslaught of reality TV dance shows, the answer to So You Think You Can Dance? is 'Yes.'
"A lot of people have always wanted to learn how to dance but didn't feel it was right for them," says Sharon Galor, owner of Toronto Dance Salsa Inc. "Then they see it on TV and think, why not?"
Specializing in beginners, Toronto Dance Salsa has grown from 300 to 1,500 students a semester within the past five years. Galor is particularly thankful to Dancing with the Stars. "You're taking someone who's never danced before and within a few weeks you're seeing them progress. It's really inspiring to watch."
It's a progression she tries to emulate in the nine-week course. "You start off as an absolute beginner, meaning you don't even know the basic steps. We go through teaching basic steps into basic turns into combinations and by the end of the month, you can feel comfortable going out to a salsa club or a social event and being able to actually dance to the songs." Classes are made up of 40 people and can be taken in a couple or as an individual.
Ilona Kamecki, owner and teacher of Dance District, agrees that group dances are a lot of fun but offers a more individual approach. "I prefer people to have at least three or four private lessons before they go to any clubs," says Kamecki. "First, they need to learn about themselves and who they are on the dance floor, (and) what kind of mistakes they're making and how to correct them."
But the bottom line is having fun. Like most dance schools in the city, both Toronto Dance Salsa and Dance District have dance parties anywhere from once a week to once a month, where their students can put their moves into play.
"People don't realize how much dancing can give them," says Kamecki. "The opportunity to dance with someone and be close and talk is a very important part of our lives."
Homemakers Featured Article – February 2006

Sharon Galor was featured in this article about the benefits of salsa dancing for fitness and for relationship-building. Here is an excerpt from the article…
"Sweat with your sweetie
Exercise together to strengthen your body – and your relationship"
By Sarah Rogers
Dancing: It's all about body language
Add a little spice to your exercise routine (and relationship) by hitting the dance floor together. Sharon Galor, dance instructor and salsa director at Toronto Dance Classes, says that a one-hour salsa or ballroom dance lesson is similar to an aerobic workout of the same length. "It is cardiovascular exercise, so you will be sweating," she says.
Dancing is also good exercise for toning because, according to Galor, various moves require you to use different muscle combinations. It also helps couples to learn to read each other's body language and signals. When dancing, the man is the leader and he must direct the woman using his body, so couples must be very connected as partners, she says. "I think it is the most intimate form of exercise to do." If you're worried about your two left feet, don't be. That's what beginners classes are for and, as Galor points out, all you need is an open mind and a good sense of humour to start. Dancing is also great because once you and your partner learn the moves, you can hit the dance floor on your own, adding to the romance and increasing your physical fitness."
Click here to read the full article
Toronto Dance Salsa Inc. Gives Back to the Community
Toronto Dance Salsa Inc. is always looking for ways to help our community. If we can assist you with your fundraising goals, please do not hesitate to let us know. We have some availability reserved for special fundraising events that require an instructional dance workshop.
Here are a few charity functions we have recently been involved with in the last few months:
Sick Children's Hospital Fundraiser Auction for Adam's Dream Fund 2008
Tranforming Faces Worldwide – A SHAMBA Night Fundraiser
Ontario March of Dimes Summer Dreams Come True eBay Charity Auction
Sick Children's Hospital Fundraiser Auction for Adam's Dream Fund 2007
Community Living Toronto – Salsa Lessons for People with Intellectual Disabilities