As with many dances, it is difficult to find a consensus about the origins of Argentine Tango. We do know the dance originated around the late 1800s in Buenos Aires, Argentina.
What started out as a street dance for the lower class has become one of the most popular forms of partner dances today. Argentine Tango dancing is powerful, seductive, exciting and charged and millions of dancers have embraced this turbulent dance to connect to others and gain a method of creative expression.
It is easy to get started taking Argentine Tango Classes in Toronto. The basic step of the Argentine Tango dance is a walk which makes the dance accessible to all ages and sizes. The music is open to interpretation which gives the leader and the follower a lot of creative freedom.
When you visit a Toronto Milonga (which is the equivalent of a Salsa Social – a place where Tango lovers get together to dance the night away) you will see couples of all ages dancing together. You do not need a partner to attend a Toronto Argentine Tango dance class as single men and women sign up for classes and partners rotate if they wish to do so.
Argentine Tango dance lessons are also a great idea if you are looking for a unique wedding dance. Many couples have made an impression with this passionate dance at their reception and classes will give you all the basics to get started on this exciting journey.
Argentine Tango Lessons in Toronto!
Toronto Dance Salsa offers Argentine Tango dance classes in Toronto for beginners. This nine week introduction class is intended for absolute beginners and will focus on the fundamentals of lead and follow technique, the Tango walk, close embrace, musicality and etiquette. Learn simple floor patterns that you will be able to use in a milonga (tango social).
Argentine Tango Toronto Instructor – Daniel Guajardo
Our Toronto Argentine Tango classes are taught by Daniel Guajardo. Here is Daniel's bio:
Daniel Guajardo,
Argentine Tango Instructor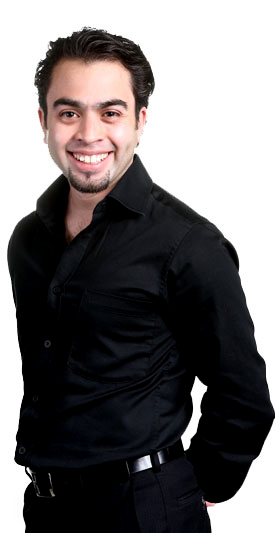 Born and raised in Mendoza, Argentina, Daniel started his training in the arts at a young age, taking courses in oil painting, martial arts and (Argentine) folkoric music and dance. Living in Canada since 1994, Daniel, like many others, fell in love with salsa on a night out at a club (La Classique). Immediately he began to learn all he could about salsa music and dance and soon he was teaching, performing and competing, winning competitions such as Berlin 1998 (first place, dance partner Karina Elizondo), Mambo Salsa competition 2000 (first place, dance partner Teria Morada) and Toronto Fit One 2006 (first place champion, dance partner Natalli Reznik).
In 2002 Daniel was introduced to Nelson Avila, world reknowned Argentine Tango dancer and choreographer, and started to dance Tango professionally with Nelson's dance company Tango Revue. With the company, Daniel performed 3 full length stage productions until the company was dissolved in 2004 when Nelson left Toronto to join the cast of the Broadway production of Forever Tango in New York.
Over the last 10 years, Daniel has not only continued to train, teach and perform salsa and Argentine Tango on stages throughout Canada, but he has also been involved in many movie and video projects and has had the pleasure to work with such stars like actors Antonio Banderas (Take the Lead – 2005), Edward Norton, Danny De Vito (Death to Smoochy – 2002) and singer Amy Sky ("Phenomenal Woman" music video – 2000).
With his varied experience in performing, teaching, choreography, and dance training background, Daniel blends all aspects of his dance experience every time he steps on the dance floor. He is known for his unique style, intricate footwork and musicality.
In addition to teaching salsa and Argentine Tango, Daniel continues to train and perform with his dance partner, Tracie Yee.