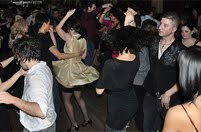 Are you signed up for what looks like one of the best season of class offerings of classes at Toronto Dance Salsa? If you've got  the Winter blues, or you just need an energetic pick-me-up, here's a sampler of the classes that are being offered:
Casino Rueda Workshop & Social:
In case you haven't read my previous post about how much I enjoyed the first Casino workshop, let me just say that everyone who took this class had a blast! Learn a ton of Cuban moves (that can easily transfer into your regular salsa routine) and dance with everyone in a large circle. It's rapid, it's super fun and taught by Tracie & Daniel!
Bachata, 9 week course (already SOLD OUT!!!) :
As soon as I saw the class being offered, I quickly signed up. Lucky I did as it sold out so quickly that there's a waiting list!!! Only goes to show that after taking the winter off from Salsa, people are back in action and taking multiple classes!
Cha Cha, 9 week course ( 3 Women needed until it sells out!!) :
Another hot course, Cha Cha is going fast! If you've ever wanted to learn this sexy dance or are tired of sitting out each time they play a Cha Cha song, then you've got to check out this course!
Student Performance Class :
Feel nervous about performing? Don't worry, I did too… but I'm loving the Helper Performance Team classes and can guarantee that you will too! It's made me a better dance in all regards and it's been amazing learning from Tracie and hanging with tons of great Toronto Dance Salsa dancers! Trust me, once you hear the crowd cheering you on you will be as hooked as Miro and Julia!
In case you missed the episode of eTalk, Tracie was teaching Raggaeton to Leah Miller of SYTYCD!!! I love, love, love Raggaeton and am looking forward to this course! Learn how to tear up the dance floor to the music of Daddy Yankee, Pitbull, Winsin Y Yandel! Focusing on body isolations, styling and co-ordination, you'll be owning on the dance floor in no time! 
Have you signed up for your next level yet? Trust me, sign up soon as they tend to go just as quickly as our specialty courses!
Ok, I've got to go and sign up for Raggaeton…