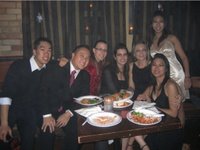 Especially when there is snow on the ground and it's freezing cold outside, it can require extra encouragement to get out to the salsa clubs. The iFreeStyle Salsa Christmas Gala at Revival lounge apparently was attractive enough to be a sold out event. In contrast to the the snow and cold outside, inside things were hot with the fantastic DJ'ing of DJ Geronimo and the excellent performances of the evening. It was also the debut of the 2nd Toronto Dance Salsa Performance Class that consists of many of the helpers you'll be familiar with from classes at TDS including Nina and I.
In terms of the location, Revival Lounge is an excellent venue for salsa. The layout is a basic rectangle with cozy benches and tables with chairs down the legth of one side and the bar on the other. There is a small stage and of course superb hardward wood floors to dance on. The location on College is a great area too with plenty of places to have dinner or grab a coffee prior to partying there. Hopefully we'll see more salsa events at Revival Lounge in the near future.
We didn't get as much social dancing in as we would have liked as we had to prepare for our performance; however, with DJ Geronimo spinning slick salsa tunes everyone was dancing up a storm. I classify DJ Geronimo as a "real" DJ because he is tuned to the crowd, adjusting to the reaction and the energy of the dancers instead of what I classify as an "iPod DJ." Anyone can put together a playlist and call themselves a DJ nowadays, but this DJ has a good mix of music appropriate for the crowd he's spinning for. I like the fact that there is always a good variety in terms of style, tempo and classics versus new material.
There was an excellent crowd of familiar faces with plenty of both On-1 and On-2 dancers. The atmosphere was great with plenty of people wanting to dance the night away. Everyone looked great in their semi-formal attire. We shouldn't need an excuse to dress-up, but most took the opportunity to look their best. And man, the salsa crowd is a great looking bunch.
Cheers to Caryl and Angus on putting on a great party.
Merry Christmas and see you on the dance floor!
---
Revival Bar
783 College Street West
416-535-7888
Revival does not have a regular salsa night
Our Ratings

Dancefloor: 4
Ambiance: 4
Music: 5
Dancers: 5
Fun Factor: 5
Overall: 23 (out of 25)