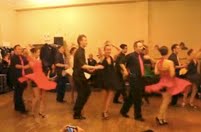 Performing a salsa routine is like riding the scariest roller coaster of your life. The whole time that you're waiting to go on you're over-thinking all of dips, drops and safety but then when you get on, feel the rush and hear the cheers all you want to do when you're done is get back on for another go.
I don't know if I have ever been as nervous as I was last night, waiting for our team to go on at Dovercourt house. With a packed house featuring some of the greatest dancers in the city we took the stage and really nailed it! The funny thing is that once you take the stage, all of your nerves, worries and counts seem to melt away to just having one of the best experiences of your life.
Trust me, as of today there are 4 spots left on the student performance team… sign up, you will not regret it.
Don't feel like you're not good enough or ready, Tracie will take you to the next level of dancing. When my dance partner Elise started she had just finished level 3… now she rocks level 6 moves like she's been dancing for years… all in a span of two months!
There is nothing better than performing and I want to say thank you to Sharon, Evan, Tracie, The Pro Team for their constant support/advice, the people who came out and cheered us on and mostly, the great TDS Helpers who challenged and inspired me on this incredible experience!
If you haven't seen the routine yet, come to the TDS Competition at 6 Degrees on April 25th as we're doing our first home-team performance and can't wait to tear the roof off!
Till then,
Stay Shining Salseros!